'Sup, guys! The 90's called, they want their fashions back. And quite frankly who can blame them with trend-setters like these.
HAWT
Clarissa, Cher, Alex Mack (!), Blossom, Topanga, Kelly Kapalski…..mega babes the lot of them. Man I loved those girls growing up  (heck, I still love them now) but I can honestly say that I don't look back on the fashions of the 90's and think "Oh wow, we looked all that and a bag of chips, I wish Hypercolor t-shirts and dungarees would make a comeback". But it shows what I know as the high-street is currently bursting with 90's inspired get-up. Pinafores, dungarees, jazzy prints and headache inducing accessories are whipping up a storm. The surprising news is that when done properly it can look really good, even on people over the age of 25! I've seen plenty of ladies ACTUALLY PULLING OFF DUNGAREES, and not in the literal sense. I think the key here is to not take it too far; I'm looking at you Little Mix. Boo ya.
I decided my first foray into this 90's renaissance would be the pinafore. I've noticed some really lovely ones around recently and they seem slightly less intimidating than dungarees and, dare I mention, crop tops.
The pinafore is from Miss Selfridge, the shirt is from Gap and the tights are from M&S.
Pretty slammin' right guys? I'm not so sure. I really like it but I think I would feel a little self-concious out in public! I really want to embrace this trend so if anyone has any good tips as to how to wear the pinafore publicly then please leave a comment. One could say this isn't my pina-forte
Once you've gotten over that terrible terrible pun, you will be pleased to learn that I've had a little look around for some other tip top pinafores.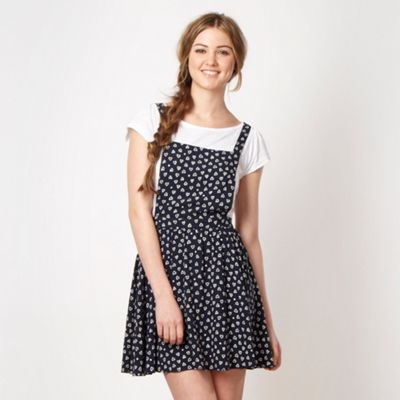 Ta ta for now. I'm off to watch Clueless. On repeat.
Jx