Hello hello! I'm back with another round-up of the dresses worthy of the highly coveted She and Hem Double Thumbs Up seal of approval. It's all gone a little bit autumnal outside so I have gone a bit sleeve crazy with all but one dress up for the job of keeping your arms cosy. I would also like to include the warning that this edition is not for penny pinchers! Enjoy!
Holy incr-edible dresses, Batman! Look what we have here! A trio of tasty delights! You may remember way back in Double Thumbs Dresses #4 I stumbled upon Poppy Clothing who base all of their collections on the stories of Poppy and her dog Fred. It's an adorable concept and one which was duly deserving of the Double Thumbs crown. However, when checking out their new Autumn Winter collection I hadn't anticipated that Poppy and Fred's adventures would take them to a chocolate shop! A CHOCOLATE SHOP! This just got serious! I simply couldn't pick between the lollies, chocolate and more chocolate on offer (what normal person can?) and so decided to do the unprecedented and present you with three dresses.
I adore everything. The lovely shapes, the beautiful colours, the gorgeously playful prints and the really brilliant way that Poppy themselves style their dresses with jazzy tights and cute cardigans. I'm going to have to begin saving my penny sweets as sadly the prices, although surely justified, are currently slightly beyond my reach. I seriously recommend checking out the website as they also sell some lovely, and affordable, accessories.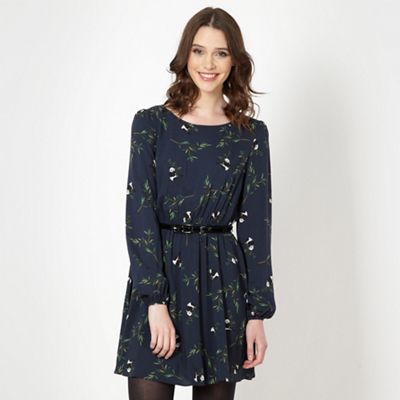 You'll cause pandamonium in this wonderful dress from the beautiful H! by Henry Holland for Debenhams! He's never one to shy away from a novelty print, not unlike myself, and has certainly excelled himself with this one.
Celia Birtwell has been consistently churning out lovely items for Uniqlo for quite some time now but none have caught my eye in quite the same way as this beautiful mustard and pink long sleeved frock. I absolutely dig the super chic 70s vibe this dress is projecting. Be warned though, it is 100% silk (hence the price tag) so you will have to commit yourself to the odd handwash.
Time to update your stratus status with this cloud inspired dress from Poem for Oliver Bonas. It would certainly brighten up a dull day with its gorgeous sky blue colour, gathered waist and cut out detailing.
Phwoar, that's a refreshing colour combo isn't it? I love the mint and white diamond print together with those long sleeves tunic style. I cant' decide if this Mina dress reminds me of Alice in Wonderland or my Grandma's tablecloths, either way it's fashion genius. For me, this is the perfect in-between weather dress as I can seem myself throwing it on with my flats for Autumn but will look equally stylish during those winter days with tights, a chunky knit and boots.
I raved about the new Sugarhill Boutique collection last time in Double Thumbs #11 but I see no shame in doing so again when they keep producing dresses as lovely as this one! Those playful mice are simply marvelous and if you look closely you will notice that some of their tails form little hearts! CUTE OVERLOAD. I am also loving the mulberry colour, which I will definitely be rocking lots of come December as you can totally get away with spilling the odd drop of mulled wine down it. Hic.
If you need a new lucky charm, you could certainly do worse than this great horse shoe print dress from fashion powerhouse, Laura Ashley! It's a beautiful cut and I adore the 'perfect for work' length. I can definitely envision myself floating around in this one. The good news is this lovely navy number is currently in the sale so don't hold your horses! (sorry)
Until next time!
Jx
You can now follow Double Thumbs Dresses on Pinterest