Well, it's Monday again (boo) but that means it's time for Double Thumbs Dresses (yay!). That's right, I'm back once again with a round-up of dresses considered worthy enough to receive the highly coveted She and Hem Double Thumbs seal of approval. It really is highly coveted, you know. This week is a bit of an odd one in that I seem to have been attracted to very similar dresses. We begin with three rosy numbers, continue with three sparkly affairs and finish off with something completely different. Just to keep you on your toes…
Rosy frock #1 comes courtesy of Ark. It's a gorgeous smock shape with beautifully detailed roses, which I find rather Alice in Wonderlandesque. Off with her head! As always, I'm a big fan of the Peter-Pan collar and those lovely short sleeves.
Rosy frock #2 is this dapper 50s number from Peacocks, who have consistently been producing wonderful dresses in this shape for a while now.I bought this one from Double Thumbs #13 and it gets no end of compliments whenever I wear it. Thumbs firmly in the upward trajectory.
And rosy dress #3 is this twirly wonder from People Tree. A bit more expensive than the other two but surely a dress worthy of a special occasion. Plus, it has a big bow. I'll spend anything on a big bow.
Time to glisten now with sparkly dress #1 from The Whitepepper who, thanks to fellow bloggers, have been appearing on my radar left right and centre. Having drooled (and then Pinned, obvs) most of their collection, I decided that this gold dress is my favourite piece. It's glittery, it has a fun collar and it has POCKETS. Oh, hello.
Sparkly dress bomb #2 is from French Connection, who seem to have set their heart on emptying my bank account. Cheers guys. This dress is just so intricate, so sparkly, so ethereal and oh so dreamy. If I was Cinderella, this is what I would wear to the ball.
Sparkly dress #3 is from Jack Wills, who really have been a surprise discovery for me. I've never really associated the brand with great dresses and, if I'm honest, I'm not sure I've ever actually ventured into one of their stores. However, a quick glance at their website reveals a whole host of previously undiscovered treasures, such is this seriously stunning gold dress. Swoon.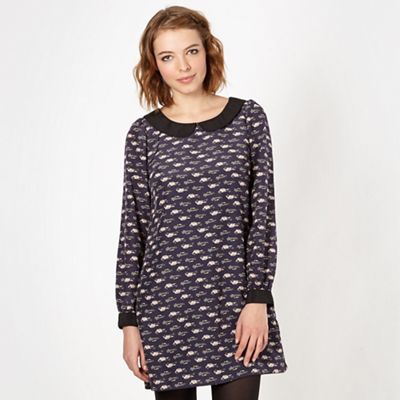 Right, onto the completely different with this bonkers yet brilliant car print dress from the oh so swoonworthy Henry Holland. His H! collection for Debenhams really is a novelty print lovers dream. Guess I'll be making some more vroom in my wardrobe.
And finishing us off for this week is this darling shift dress from Warehouse. It looks perfect for winter work or play and I'm already picturing it with wooly tights, boots and a scarf. Snug.
Jx