Good morning one and all and congratulations, you've made it to Wednesday! Why not reward yourself with a cursory glance at this week's list of dresses that receive the highly coveted She and Hem Double Thumbs seal of approval. It would almost be rude not to.
This looks like a lovely wintery dress doesn't it? I can imagine doing all manner of pretty wintery activities wearing this number. It would most probably be totally impractical to go ice-skating in but gosh darn it, you'd look nice wouldn't you? Until you fall over that is. Lovely stuff, River Island, lovely stuff.
I love this very pretty navy dress from Zara. The floral print is all sorts of lovely and I find that shape and style of dress to be extremely flattering. The cut out detail on the back makes it stand out from all the other millions of floral dresses I love and, thus, gives me the perfect excuse to buy it. Well played.
When it comes to modern vintage, Boden are just superb. I simply love this 60s inspired Aubrey dress from their new collection. Giant polka-dots for the win! The good news is Boden have kindly knocked 30% off the price of dresses (at the time of writing that is), the bad news is you might have a job on your hands obtaining your size.
Winter pastels is a trend I would dearly love to tap into but sadly, due to limited funds, it just hasn't happened for me. This lovely little sugary pink dress from Forever 21 could well be the answer to my cheapskate prayers as I would no doubt happily cavort about in it come spring but in the meantime I can happily team it with white woolly tights and my bobble hat. Trendy!
Oh look, another Primark dress to add to my embarrassingly long list of things I want from them. It's a lovely colour and looks like old wallpaper. What's not to love?
H&M doing what they do best here with this classy and classic jersey dress. It certainly has more than a touch of the Kate Spade about it too, which is something me and my bank balance are eternally grateful for. Kate probably isn't as chuffed though. Sorry, Kate.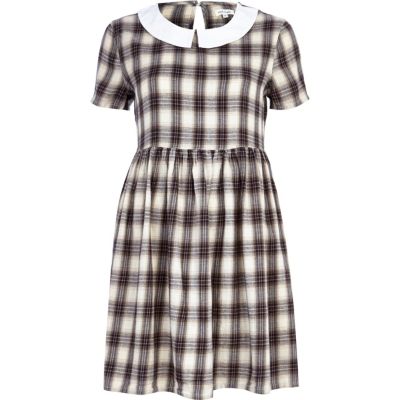 I received a lot of lovely comments about the dress I wore in this weeks Fashion Bloodhound post but, sadly, that particular River Island dress has now sold out. Fear not though as this tartan wonder is identical but for the colour. I will gladly vouch for its awesomeness.
And to finish us off this week, a bit of sparkle! Those of you who spent last Friday night, as I did, watching Children in Need, will recognise this gorgeous Needle & Thread frock as the one that Fearne Cotton dazzled us in. I couldn't take my eyes off her as she shimmered about my TV. If you've got a big budget for a Christmas frock then you need look no further.
See you next time,
Jx