Hello again! Can you believe we are already at Double Thumbs #30? My how time has flown. But let's not dwell on past dress success, let's move forward with this week's selection of dresses deemed worthy of the highly coveted Double Thumbs seal of approval. Seamless.
First up we have two corkers from Boden, both in their lovely 50's Nancy shape. I love both dresses (my bank balance less so) but my overwhelming desire for all things novelty has mean't that the charming riveria print, complete with little deckchairs, has pipped the gorgeous sunshine print dress to the top spot.
I nearly included this gorgeous embroidered ASOS dress in last week's Double Thumbs but then took it out at the last minute. A riveting insight into my writing process for you there. Anyway, I've not really stopped thinking about it all week so, as I obviously made a mistake in omitting it before, here it is. You're welcome.
Behold! It's the yellow dress of my dreams! Oh, Oliver Bonas, you do spoil me.
I really love a pretty white dress and this vintage inspired lace one is just perfect! Jack Wills seem to be consistently bringing out super cute dresses that I simply need in my wardrobe. *sigh*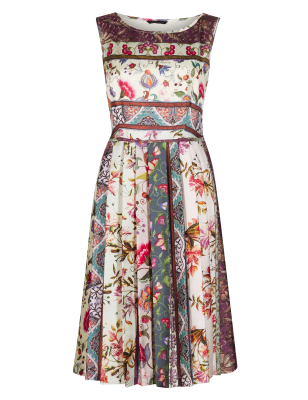 Well ding dong M&S, what do we have here! There is so much beautiful detailing going on on this patterntastic floral dress. M&S believe you should wear it with "bags of confidence", so here's hoping they sell those in pretty colours too.
This Dorothy Perkins blush pastel pink dress is so pretty and feminine. The fit is gorgeous and it also has a lovely organza trim, which is good if you're bothered about being all trendy. I'm more interested in the whopping great bow at the back. Phwoar.
And last but not least is this nautical combination dress from Seasalt, which has a cute striped t-shirt top and a brilliant boat print on the skirt. I love all the little detail, such as the red rope tie belt. Lovely stuff.
That's all for this week. I'm really struggling to find budget friendly dresses worthy of the Double Thumbs accolade at the moment. Pull your socks up, high-street!
Jx