Hello dress fans! It's time once again for a gander at the frocks deemed worthy of the highly commended Double Thumbs seal of approval. And the sun is shining, which makes buying new dresses all the more essential. Obviously.
Oh my! I only discovered last week my love of deckchairs on dresses so imagine my delight when this chair festooned wonder frock appear online. It's also got pockets and a nice bow. All this leads me to believe that Cath Kidston are still purposely trying to bankrupt me.
The new Nishe collection is really rather special! With pretty shapes, novelty prints and adorable frocks a plenty. Thankfully, quite a few of the collection have appeared on ASOS and I would quite happily own it all. The two above are my current favourites although, be warned, there is a sweet print yet to come.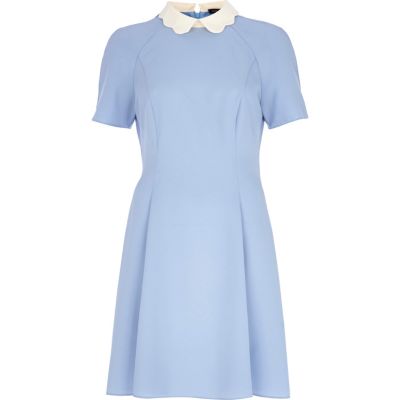 This lovely River Island dress is so simple and pretty, it's a real wardrobe classic. I love the colour and the collar detail. I can just see myself wearing my heart shaped sunglasses and basking in the sunshine in this one. 
Grease is the word, or the Lazy Oaf dress in this case, and pretty rad it is too. I'm really diggin' those playful images, with the piano keys being my personal favourite as they are the perfect accompaniment to my inevitable singing. All together now, Summer lovin'…
This Miss Patina dress might just be my perfect springtime frock. It's made of a lovely thick fabric to keep me warm in the breeze but the lovely mint colour keeps the dress looking fresh and ready for the sun. It's also just gorgeous.
I'm usually a little scared of anything off the shoulder but if anything is going to make me change my mind it's this beautiful dress by Untold at House of Fraser. The colourful floral print is so fun and the aforementioned off the shoulder cut gives it a lovely vintage silhouette.
Last but not least is yet another brilliant Emily and Fin dress. This one, in their super flattering Jessica shape, features a lovely vintage style boat print and is available from Bristol's own, Cox and Baloney.
Jx