Hello and welcome back to Double Thumbs, our bank busting roundup of frocks we consider worthy of the highly coveted She and Hem Double Thumbs seal of approval. I've been a bit slack on the DT front of late due to LIFE and STUFF. Anyway, as a result there will be two Double Thumbs lists this week! Three cheers for that.
We start with not one but two pretty dresses from Joules (aff). Both feature charming prints, with a hand drawn vintage inspired cafe/picnic scene and botanical design respectively. Does the second dress remind anyone else of a Britannica Encyclopedia entry? Just me then. It's lovely though, right? Both dresses are so summery and cool. Get in my wardrobe!
Another double entry! This time from Zara who are also nailing the summer dress. Both look to be my favourite sort of frock in that you could simply throw either of them on with a pair of sandals and be ready to party. Never let it be said that I'm not ready to party.
I'm a big fan of the brightness of this lovely fitted sundress from Sugarhill Boutique! If people are going to wear sunglasses, you may as well dress as loudly as possible eh? Has anyone else noticed the sudden prevalence of pineapple prints? Surely the fruit print of 2014.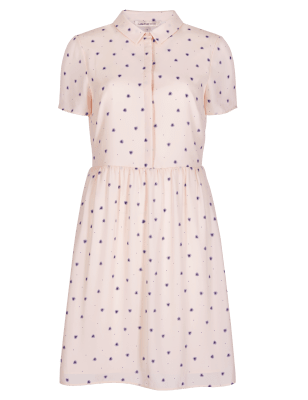 Marks and Spencer are really bringing the pretty at the moment. If Fifties pastel loveliness is your thing (hi), then I would suggest you go take a gander at their website. My current crush is this lovely apricot shirt dress which M&S describe as not being overly feminine. Whatevs, guys.
This Oasis dress is super sweet! I love the candy cane colours, the slightly drunk looking stripes and that lovely nipped in waist. I couldn't find this particular dress on their website but it is available from John Lewis.
Henry Holland is always a good bet for a novelty print and this adorable sunglasses adorned frock is no exception. You can find this retro inspired dress at Debenhams.
Jx