Hello hello and welcome back to Double Thumbs Dresses. Our roundup of the frocks we have deemed worthy of the highly coveted She and Hem Double Thumbs seal of approval. I hope your bank balances are suitably prepared….
….because OH MY. This has definitely got to be up there with one of the best ever Double Thumbs Dresses. It is the cake covered dress of my dreams. Sadly it would appear I am not the only one obsessed with this print as Lady Vintage are currently running perilously low on them. Fingers crossed more stock appears soon.
Who needs cake though when Nishe have come to the rescue with a doughnut embroidered dress. I mean, seriously, it's like the Internet doesn't want me to have any money. This dress is ridiculous and I need it. Mmmmm doughnuts.
If food based frocks aren't your thing then don't feel too deflated, the new Nishe collection continues to deliver with a balloon dress! It's so pretty and will surely raise your spirits.
This Cath Kidston beauty caused quite a stir at their press day waaaay back in July. It has now finally arrived online and in store and oh boy has it been worth the wait. The Townhouses print is simply gorgeous and, as ever, I adore this dress shape. No window shopping necessary as I'll be moving in on this one.
It would be fair to say that I've been fawning over this Yumi dress. The delightful deer print is one thing but I sure do go doe eyed for a good collar!
You'd be barking mad not to love this super cute puppy print dress from Orla Kiely. It's such a fun dress and a great piece to take you through Autumn/Winter. I really love the sweatshirt style and those raglan sleeves are just perfect.
More animals, this time in the shape of horses from People Tree. I adore the flared shape and elbow length sleeves but really it's the colours that have got my horse heart racing. I just love the pop of yellow against the grey and black. Dreamy. I wouldn't bet against this one appearing in my wardrobe.
You can sharpen up your style with this pencil print dress from White Stuff! It's definitely a perfect work dress and would look fab with a blazer thrown over it. I can't help but feel they've missed a trick in not making a pencil skirt but, hey ho, I've got dibs on those nibs!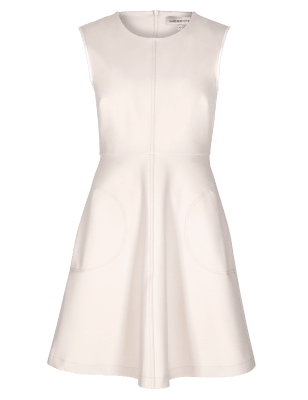 At first glance this might not appear an obvious choice for Double Thumbs but I have been searching for the perfect dress to layer over my ever growing collection of jazzy (yes jazzy) shirts and blouses. This nude M&S frock fits the bill perfectly and has the added bonus of massive pockets. You can see it styled over a pretty blouse here.
Jx
Have you read Double Thumbs Dresses #43?