Sound the party klaxon! We've finally made it to FIFTY Double Thumbs Dresses posts. I completely dread to think how much money I've spent in the process of writing them but hey ho a milestone is a milestone! Perhaps we should all buy a nice new frock to celebrate? Seems a reasonable suggestion….. So, without further ado, here's the 50th roundup of dresses we have deemed worthy of receiving the highly coveted Double Thumbs seal of approval. PARTY KLAXON.
I blimmin' love Emily and Fin and practically lassoed my computer when I spotted Aspire Style had added some of the new season collection to their website, which you can pre-order now. There are so many new gorgeous vintage inspired prints that it was hard to narrow it down to just two! I think you'll agree that the cowboy print is pretty special indeed and I adore the cuteness of those marbles against the dusky pink. Get. In. My. Wardrobe.
E I E I WOAH! Channel your inner Old MacDonald in this farm yard print dress from Cath Kidston, who happily bring new meaning to the term 'animal print'. It's a gorgeous cut and not one I believe I've seen before from CK. I just love the button detail and apparently it has concealed pockets! Rejoice. You'd be quackers not to moooove quickly with this one….
This is such a lovely 50s inspired number from Forever 21! I adore the mustard colour, the pleats and, of course, the peter pan collar. Delightful! It's also a bit of a bargain which makes a nice change.
It might have something to do with Cara looking all wonderful in it on the Topshop homepage but I have a serious crush on this big daisy print number. I want to embrace the flower power and rock that pussybow neck! I also want to be a supermodel and have fantastic eyebrows. I can only assume this dress will make it happen.
My goodness this is a berry nice frock from Sugarhill Boutique. The bright aqua colour is just stunning and looks great set against the cherry print. I am also a big fan of the 50s shape which looks outrageously flattering with those lovely sleeves and cute little collar. One to cherish for sure!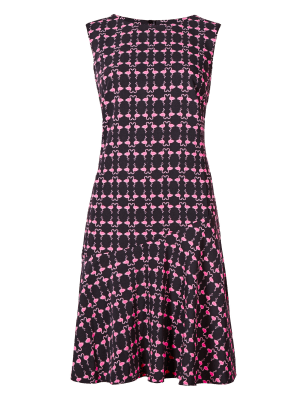 FlamingOMG what a top print, which according to M&S is apparently conversational. I wonder what it's trying to say? You can't really argue with hundreds of flamingos so it can pretty much say anything it likes. FYI I could only find it in petite sizes on the website so you'll have to flaming-go and try and find it in-store if that doesn't suit.
We finish off with this charming dress from Miss Patina. It already looks pretty great from this picture with the lovely shirt detailing underneath a classic silver frock. But, game change, the print on the shirt is actually POLAR BEARS. What a triumph for the eyes.
Jx