Hello hello! Welcome back to Double Thumbs Dresses, our roundup of the frocks we have deemed worthy of the highly coveted double thumbs seal of approval! Let's crack on….
Oh my cod, things are certainly getting a bit cray cray at Cath Kidston HQ thanks to their delightful new river inspired prints! As a self-confessed CK addict, I have naturally fallen hook, line and sinker for all things underwater! I am loving the colourful fish number with its shirred waist (as seen on the cloud dress) but how beautiful does the blue and white sundress look? I think Summer 2015 is going to be the time and plaice for fishy fashion!
Surfs up! I love this fab new Hawaiian inspired prom dress from Oliver Bonas, which has a gorgeous pastel pallet and features some very lovely surfers riding the waves. I'm pretty sure it's supposed to be accessoried with sunglasses, a beach and a Pina Colada. That's what I'll be doing anyway.
I am all about shirt dresses at the moment and this 1950's inspired number from Boden is ticking all the rights boxes. That geo print is just retro heaven and the whole thing just looks fantastically flattering. I would happily trot into work in this first thing and then head straight out for drinks in it come 5. Living the dream…
This is possibly the most cheerful dress I've ever seen but, gosh darn it, who doesn't love a bright, multi-coloured chevron dress? It also has super deep pockets so you can store extra sunglasses for your friends to borrow when they realise they can't look directly at you. Excellent summer dress work, Louche.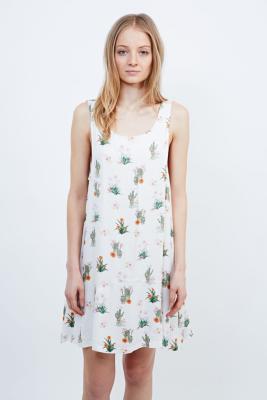 I didn't know the cactus was able to look so pretty but Australian brand Somedays Lovin' have created this super lovely print featuring a whole prickly bunch of them! I really love the laid back style of this dress and look forward to floating around in it on a hot day (did someone say something about a beach and a pina colada?).
We always adore anything by Amy Laws and this 1950's style floral affair is no exception! The dusky blue colour of the dress is gorgeous and who doesn't want foxgloves growing around their hemline?
I thought the pom poms of last week were possibly going to be my Double Thumbs Dresses highlight of the year but here I find myself typing the words 'atomic flamingo print' and now I not so sure! This Collectif dress is brilliantly bonkers and features an array of watermelons, bannanas, pineapples and ummm ATOMIC FLAMINGOS (??!!). It might be the best thing I've ever seen.
Jx
Follow She and Hem's board Blog: Double Thumbs Dresses on Pinterest.