Welcome back to another dress roundup courtesy of Double Thumbs Dresses #60! SIXTY! How did that happen, eh? But let's not dwell on all the pounds we've (I've) no doubt collectively spent on frocks over the past couple of years and let's crack on with the dresses we've deemed worthy of the highly coveted Double Thumbs seal of approval.
We start the week with this yellow and pink scalloped-lace wonderfrock from French Connection. I really think this dress is just perfection and will no doubt be furious when I wait for it to go in the sale and then it sells out immediately in my size. First World Problems indeed. That aside, how adorable is that little bow? SWOON.
I get to write about this pink Topshop beauty from the smug position of someone who already owns it. Hooray for me. It really is a little gem of a dress with a super lovely 70s floral print and beautiful ruffle details. I also enjoy that it's chiffon so never needs an iron! I'm so rock and roll.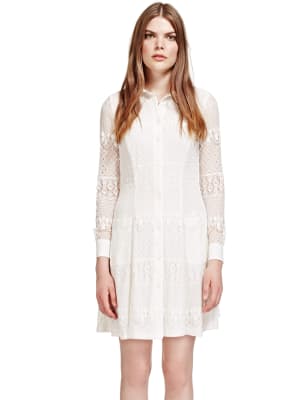 My never ending love affair with M&S continues with this white lace shirt dress. It's basically a net curtain in dress form and I love it. Look at those little cuffs! Look at those sleeves! Look at those pockets! It also looks so gorgeous to wear. Go on, treat yourself to the little video of it on the website and tell me I'm wrong.
If your wardrobe is currently missing a cockatiel print dress then you'll no doubt be relieved to discover that Joy have just the frock for you! I could parrot on all day about how lovely those cap sleeves are or how pretty the box pleat skirt is but I think I'll just let the birds do the talking.
I think there's something quite wonderful about this new apartment print from Yumi. There's a lot going on behind those windows! This dress also comes in grey but I really like the slightly unusual combination of the blues and browns together. Perhaps this particular building block would look good paired with some skyscraper heels? (sorry).
I'm a big fan of this tropical print from Lindy Bop. I really like the simple style of the day dress but those big beautiful leaves are surely the star of the show. Who doesn't love a discreet banana?
My lace love is back again with this floral print swing dress from ASOS. I already really love the style and shape of this frock but the embroidered lace inserts really make it something quite special. I really want to waft around with those flared sleeves!
Last but not least is this playful dress from Frome based Deadly is the Female. How charming is the flower cart print? So cute! I'm also a massive fan of the red straps, the green trim, and the yellow belt! There's just so much to love.
Jx