Hello hello! It's Double Thumbs time again! Your weekly roundup of the top frocks we have deemed worthy of our seal of approval. Before we continue, I believe there's time for one final shameless plea for any Company Style Blogger Awards votes. If you like our thumbs, please do take a moment to check out the website. We are on page 4! Voting closes on Friday. ONWARDS.
Ha! You thought you'd seen the last of my pineapples but here we are again, in what I am now calling the fashion world's 'pineapple agenda', with another from There's Only One Amy Laws. But WHAT a pretty 50's style pineapple frock this is. I love everything about it.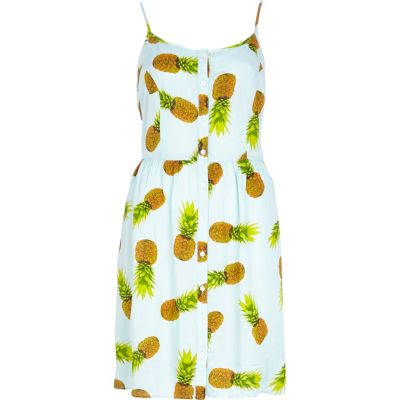 Ha! You thought you'd seen the last of my pinea….yeah, it's kind of getting a bit silly now isn't it? I can't help it though. I'm just drawn to the tropical. This lovely cami is from River Island.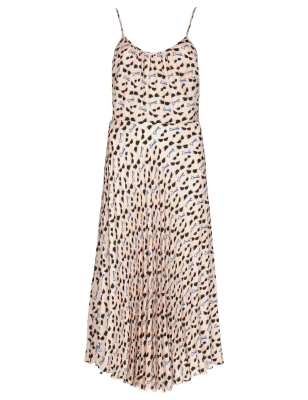 People can tell me all they want about how Marks and Spencer have lost their way when it comes to women's fashion. I'm not listening. I have always been an M&S girl and from where I am sitting, they are consistently brilliant. Look at this sunglasses print dress? It's marvelous! It's on trend! It's under £50! I will defend them UNTIL THE END! (bit of poetry for you there). Although I'm still waiting for a Percy Pig print dress. Sort it out, guys.
*update* currently showing as out of stock
Screw you, pineapples! There's a massive lemon print on the block and it's brilliant. I often overlook Banana Republic but they have got some fantastic pieces in at the moment!
Ah, we love a bit of Weekend Doll here at She and Hem so I was very excited to see their new collection pop up this week. This yellow puppy (!) dress, with it's super cute print, is my favourite. It's also got a whacking great bow on the back. Winner.
One of my favourite ever Double Thumbs Dresses is from 20th Century Foxy, so it's nice to see them back with this bangin' red stripe shirt dress. It's even got hidden pockets. Dreamy.
My goodness, Matalan can be totally amazing. This perfect pastel pink floral shift dress is a tenner! A tenner!
Last up this week is this lovely floral tea dress from Peacocks. I love the shape and the pattern but the thing that truly seals the deal for me is that adorable Peter-Pan collar. You can't really argue with that price-tag either.
That's your lot!
Jx