Hello hello! I'm back with another round-up of the dresses worthy of the highly coveted She and Hem Double Thumbs Up seal of approval. It's all gone a little bit autumnal outside so I have gone a bit sleeve crazy with all but one dress up for the job of keeping your arms cosy. I would also like to include the warning that this edition is not for penny pinchers! Enjoy!
Holy incr-edible dresses, Batman! Look what we have here! A trio of tasty delights! You may remember way back in Double Thumbs Dresses #4 I stumbled upon Poppy Clothing who base all of their collections on the stories of Poppy and her dog Fred. It's an adorable concept and one which was duly deserving of the Double Thumbs crown. However, when checking out their new Autumn Winter collection I hadn't anticipated that Poppy and Fred's adventures would take them to a chocolate shop! A CHOCOLATE SHOP! This just got serious! I simply couldn't pick between the lollies, chocolate and more chocolate on offer (what normal person can?) and so decided to do the unprecedented and present you with three dresses.
I adore everything. The lovely shapes, the beautiful colours, the gorgeously playful prints and the really brilliant way that Poppy themselves style their dresses with jazzy tights and cute cardigans. I'm going to have to begin saving my penny sweets as sadly the prices, although surely justified, are currently slightly beyond my reach. I seriously recommend checking out the website as they also sell some lovely, and affordable, accessories.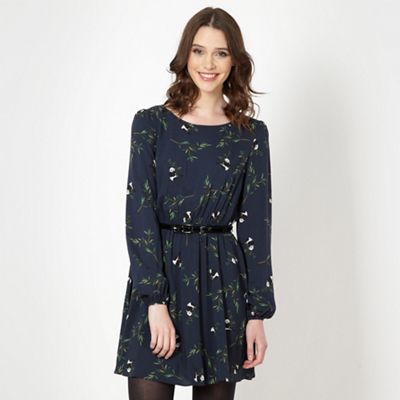 You'll cause pandamonium in this wonderful dress from the beautiful H! by Henry Holland for Debenhams! He's never one to shy away from a novelty print, not unlike myself, and has certainly excelled himself with this one.