Well hello there and welcome back to Double Thumbs Dresses! Just when you thought I'd forgotten about you, eh? As Cher Horowitz would say, AS IF! I am back with a new roundup of the dresses we have deemed worthy of the highly coveted Double Thumbs seal of approval…..
We begin with this bit of retro gorgeousness courtesy of the wonderful Boden, who continue to knock it out of the park season after season! That massive floral print is bloomin' marvelous and who doesn't love a cheeky little shift now and again?
Oh blimey, you should all know by now that the way to my clothes-loving heart is with a hot air balloon so naturally I was all over this Oliver Bonas frock when I spotted it in store! As well as the balloons this dress features adorable hand drawn images of famous landmarks from London, Paris and Pisa. It's so pretty and perfect for Summer.
I love love love the colours of this chic little Warehouse dress! It's just so darn bright and the 70s style and print are totally fab! I usually worry about a high neck but actually I think this dress would be super flattering.
This ship shape dress from Cutie (available from New Look and Modcloth) is really floating my boat! The tugboat illustrations are just lovely and make this simple dress so delightfully playful.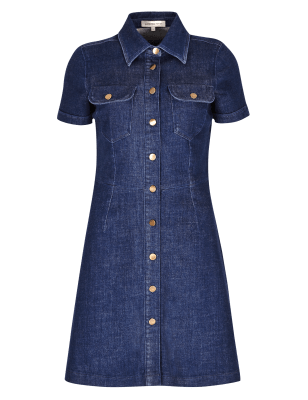 I wasn't initially sure about the whole denim dress trend but thanks to seeing a lot of other bloggers looks fabulous in them I now find myself coveting this little beauty from Marks and Spencer. It just looks so nice! and so easy to wear! and I want one!
The new in section of F&F is a triumph at the moment, it really is. They've gone a bit 60s & 70s inspired dresses crazy and I for one am LOVING IT. This poppy print shirt dress is my pick of the bunch thanks to those dreamy sleeves.
I've also really been loving River Island of late and this neat little paisley print shirt dress is a fine example of why. The colours are just dreamy with the yellows, pinks, and browns all complimenting each other perfectly. Worn with the collar open and the sleeves rolled up, you my friend would be hot to trot.
Wimbledon might be over but surely strawberries and cream never truly goes out of style! I think this fruity number from Oasis looks good enough to eat and I am eyeing up ready for my sunny summer holiday next month!
Jx