On Wednesday, we attended the very first Bristol Fashion Tweetup (follow on Twitter here) at the rather grand Clifton Club, in Bristol. The event was organised by Jo, the founder of Handbags from Heaven, a wonderful website that lets you hire designer handbags!
We had a wonderful time schmoozing and boozing with other Bristol creatives, including fellow bloggers, photographers and wedding helpers! It was really interesting and inspiring to hear about what other people are up to and what their inspirations and aspirations are. There was a really relaxed and friendly atmosphere, meaning we could all just happily chat away.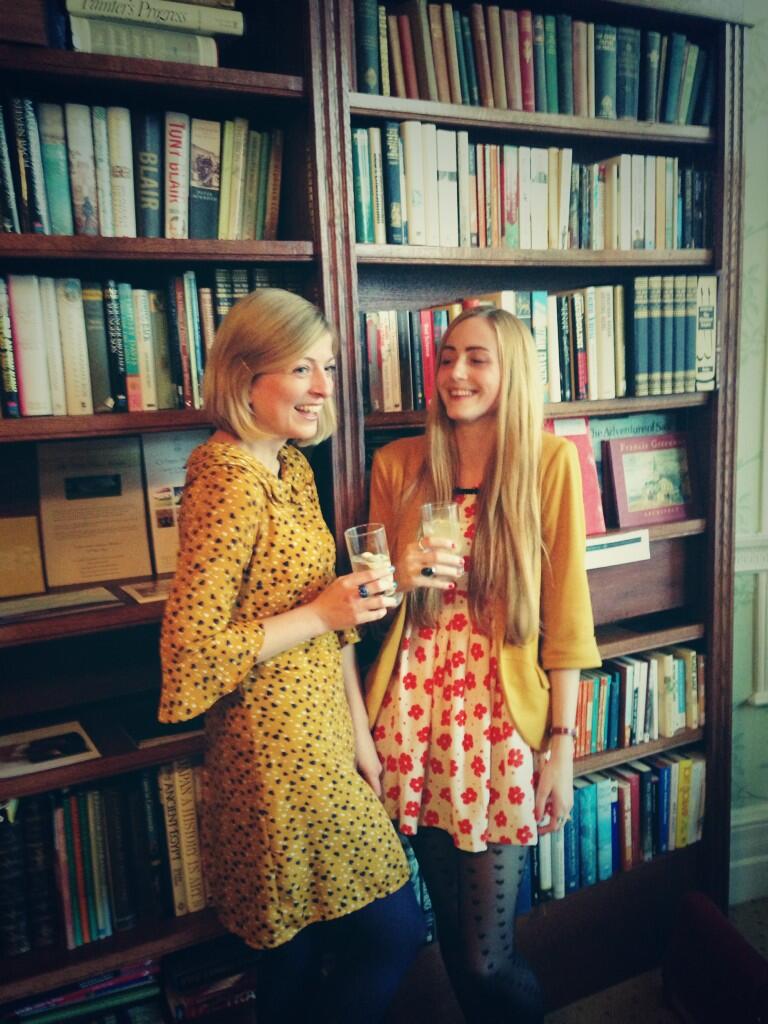 We, correctly, anticipated the Clifton Club might be a little too dark to take decent outfit photos with my camer so we stopped off at our favourite Crescent (honestly, who doesn't have a favourite Crescent?) and took some pics! The best moment was definitely when an adorable dog gate-crashed our little photo session!
Victoria – I wore a mustard New Look heart print shift dress. I had won this dress on Ebay, forgotten all about it and it coincidentally arrived that day, so I considered it a sign to wear it to the event. I was drawn to its super cute frilly sleeves and lush collar. I teamed it with navy tights from ever faithful Topshop and my amazing tan George shoes. I cannot express how much I love these shoes. I purchased them about 6 years ago and they have stayed in such good condition considering that they are my 'go to' heeled shoe for most outfits.  They are so comfortable and the perfect size, as I'm a tricky size 6.5! My sparkly blue ring (seen below) is from Accessorize, and the matching nail varnish is Azure by Rimmel.
Jo – I wore a really gorgeous red and white floral summer dress from Ever Ours. The first time this went on sale it sold out before I could even open my purse! I checked the website every day until it came back into stock and completed the swiftest check out on record. It was worth the effort as it's such a pretty frock. I teamed it with black heart print tights from Primark and my ever faithful white Topshop shoes, that I actually can't stop wearing. I've even bought them in navy now, just to give my feet a little change. My mustard blazer is also from Topshop.
If you are in the area, you should definitely come along to the next one!
J&V x