Hello beautiful! It's time for our weekly round up of all those lovely dresses that receive the highly coveted She and Hem Double Thumbs Up seal of approval. Apologies in advance if you are one of those strange sorts who is adverse to the colour yellow, I appear to have been drawn to the sunshine shades this week!
You'll whip up a storm in this wonderful dusty pink dress! I just love those ice creams around the hem and that super adorable Peter Pan collar has truly melted my heart. With dresses as cute as this one, I'm not sure only having one Amy Laws is enough! Isn't it gorgeous? her website is well worth a look.
It might feel hot enough outside to cook an egg on your forehead but why bother with that messy shenanigans when you can look just as cracking in this fried egg print dress from Miss Patina. This powder blue 1950's style dress is eggstraodinarily fun and very pretty to boot. I'm slightly scared of the open back tie detail but it doesn't look as if it would show any underwear straps, and it involves a massive bow, so I can totally get on board!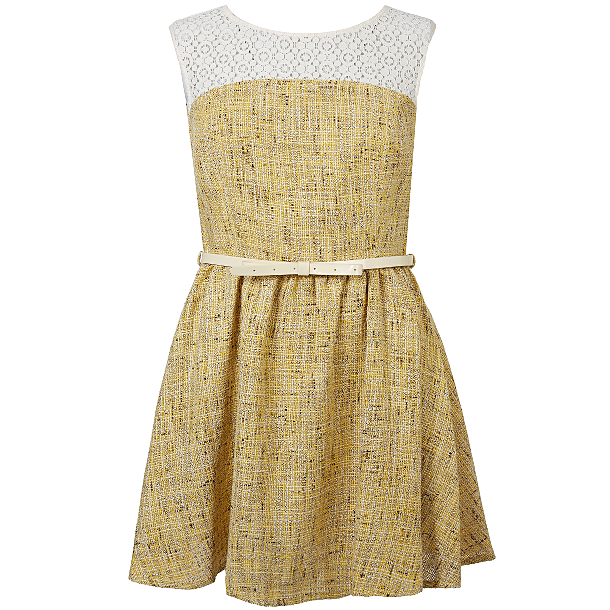 Oh look, it's the first of the yellow numbers. This 60's inspired number from Asda(!!) is completely gorgeous and an absolute bargain for £18. I love the lace detail on the neckline and the fit and shape of the dress.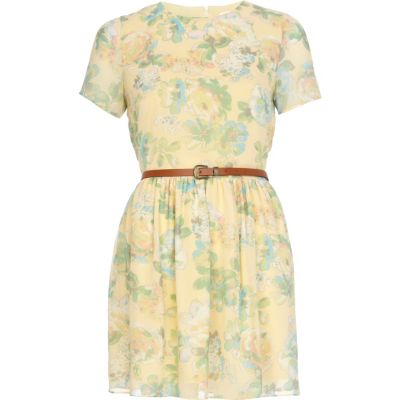 I do love a summer dress with sleeves! This beautiful floral dress from River Island is perfect for the warmer weather. I would throw it on with sandals and a big hat and feel likes the bees knees.
Now THIS is fun. Who doesn't want to wear cats floating around in the night sky? This barmy but brilliant dress from Bonne Chance Collections will certainly get some attention! It's a cute 50's style with lovely lace inserts on each side and a great full skirt. 

I'm more likely to be found doing shots of Jager than I am to be buying anything from the store but hey, a girl can dream can't she? Jaeger always have at least 44 dresses I would happily marry but this week I am settling on just two from their current sale. The first is a fabulous navy fit and flair dress with an all over ladybird print. Swoon. The second is a super fun yellow belted dress with lots of lovely flowers printed all over it. Both dresses would look fabulous with bright red shoes and bright colourful accessories.
Victoria and I were lucky enough to be invited to join in Instant Vintages' 5th birthday party celebrations this week (blog post to come) at which we spotted this lovely lovebird print dress which comes in several different colours. I do love a good shirt dress as they are so versatile and the contrast of the teal birds against the mustard is just fab.
See you next week!
Jx