Well hello there! Did you miss me? It has been a little while since our last installment of Double Thumbs and I can only apologise for my sudden leave of absence. I do hope you haven't been frantically F5ing all this time. Fear not, dear reader, for I am back with all the delightful dresses one could ever wish for with this weeks overdue installment of the frocks deserving of the coveted She and Hem Double Thumbs seal of approval.
First up, you will simply be lost without this sensational map print dress! It's off the chart! It first appeared on my radar when it arrived online but sadly I have yet to find it in store. I absolutely love the quirky print but I'm not convinced the shape will flatter me. I would definitely recommend navigating yourself to your nearest Topshop to check it out! Topshop have been coming up with some genius prints lately so whilst your there go seek out the marshmallows and ferris wheels!
This absolutely gorgeous vintage inspired kaleidoscope print dress by Minkpink is an ASOS exclusive (you might have already gathered that from the massive exclusive banner). The print is so whimsical and childish, I just love it.  It would be the perfect festival dress! It might not currently be the weather for wellies but wouldn't they just look fab? We've been so lucky with the weather so far this summer that I fear Reading/Leeds and Bestival might want to invest in some Hunters! Hey, at least you'll look good!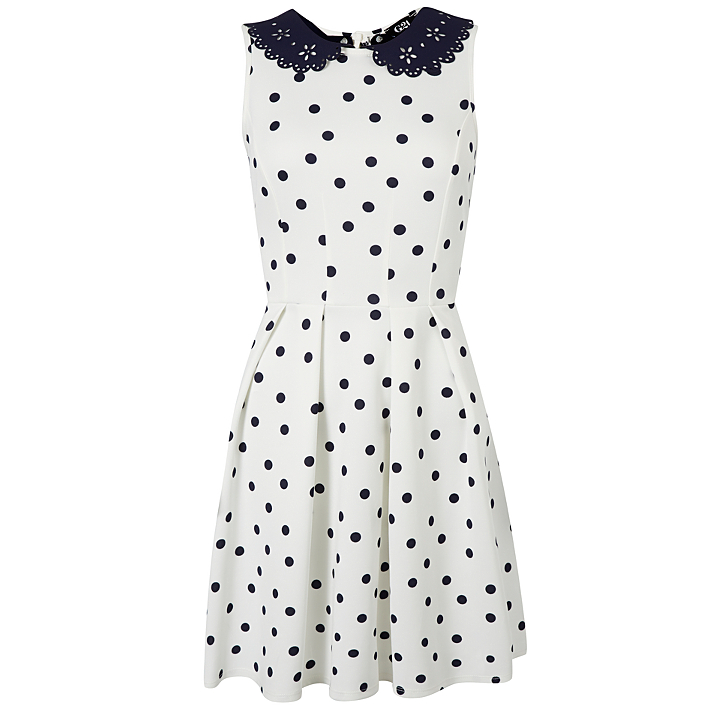 It's another hit from George who have been on a bit of a roll of late! This lovely polka-dot skater has a very pretty detachable collar (although we might not be able to be friends of you choose to take it off) and looks a lovely length and fabric. It's a lovely and easy to wear summer staple.
This lovely bird print dress by Louche, available from Joy, has a wonderful 50's flavour with it's cinched waist and full skit. I love the vibrancy of the green birds against the monochrome background, it works brilliantly and makes the dress rather unusual. I also really love it when dresses come with a removable belt, it's like a free gift!
I am experiencing some serious puppy love for this poodle print dress from Hoss Intropia at John Lewis. The petroleum colour is just divine and the playful poodle print is just too much, they are wearing top hats for goodness sake! I love the long sleeves (although granted I wouldn't want to wear them right now) but the light jersey fabric makes it a very durable dress indeed.
I make no secret of the fact that I love the colour mustard so this dress from Dahlia is already an immediate winner with me! I really like the shape of the dress, especially with those delicious ruched sleeves and the floral print is super pretty. This is definitely one that could be thrown on and worn to the pub of a summers evening but will also look great in in the colder months (if you can bear to think that far ahead) teamed with tights, boots and a good old cardy.
You'll neigh-ver believe the price of this little beauty from Florence and Fred! It's an absolute bargain! Clearly I am a sucker for a novelty print but I love how versatile this dress it. I does look a triffle short but I'm still sure I could get away with wearing this to work, especially when teamed with tights. It has a flattering draw string tie at the waist and obviously it has a great sleeve! Giddy up!
I spotted this one in store at American Apparel and immediately went all gooey for it! I must admit that the website doesn't do it justice at all! It has lovely white buttons all up the back and is a very pretty colour (it also comes in blue) and shape. Definitely one to go and check out.
That's all for this week!
Jx